ENM, ECA, Xiquitsi
Music Fund has been active in Maputo since its inception in 2005 and has since worked with several partners, the three main partners being the National School of Music (Escola Nacional de Música -ENM), the School of Communication and Arts (Escola de Comunicação e Artes – ECA) which is a faculty of the Universidade Eduardo Mondlane, and last but not least the Xiquitsi project, which is inspired by the Venezuelan "El Sistema". These structures have a total of 500 students, five orchestras, three choirs, seven music ensembles and 65 teachers, aiming at an audience of all ages (6-18 years for ENM, over 18 years for ECA and Xiquitsi).
To date, Music Fund has sent over 600 instruments to Maputo and supported the creation of permanent repair workshops in each of its main partner projects (piano and wind instrument workshop in the NHS, guitar and string instrument workshop in the ECA and string instrument workshop in Xiquitsi). Eight technicians have also been trained: five instrument repairers (quartet, plucked and wind instruments), a piano tuner repairer and two sound technicians.
Start-up AMORIMITS
In 2018, Music Fund encouraged these technicians to co-found the start-up AMORIMITS. The aim of this initiative, which follows the circular economy approach, is to ensure that their work is recognised and remunerated to its true value. Music Fund supports the start-up through donations of equipment and consumables (strings, reeds…), through training in business management and by supporting good relations between the different partners.

Our projects for 2021-2023
Support and guidance to Music Fund-trained technicians (start-up AMORIMITS, Casa de Pianos Moçambique d'Anselmo and Gilberto Chissaque)
Specialised training in grand piano repair for Anselmo Chissaque, as part of the restoration project of the Steinway D piano of the French-Mozambican Cultural Centre of Maputo (in collaboration with Chris Maene's studio)
Further training of the two sound engineers Mauricio Zacarias Heheia and Júlio Maheho, through a programme of courses and professional internships (with the collaboration of Italian sound engineer Andrea Rovacchi)
Further in-depth training in guitar repair for Jacinto Marrenguele in Marche-en-Famenne (B)
Development of a musical project highlighting the mbiras (traditional Mozambiquan instrument) made by Ozias Macoo, in cooperation with the Franco-Mozambicain Cultural Centre, the Percussions de Strasbourg, the Drumming Grupo de Percussão Milano Musica and Xiquitsi
Extending Music Fund's activities to Maputo's outlying towns and provinces (decentralisation)
Anselmo Chissaque
Piano tuner and repairer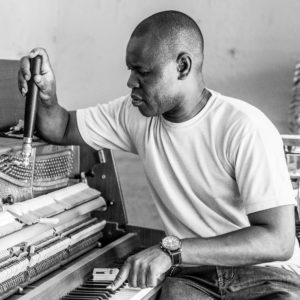 Anselmo Chissaque is the first student to receive support from Music Fund. Since 2006, he has been attending courses in piano tuning and repair at the National School of Music (Escola Nacional de Música – ENM) as well as in Belgium. After graduating in 2009 from the European Technical Institute of Music Professions (Institut Technologique Européen des Métiers de la Musique – ITEMM) in Le Mans, he became head of the permanent workshop at ENM established by Music Fund and specialised for several months in various French and Belgian workshops (Juste un Piano in Versailles, Centre Chopin in Paris, Pianomobil in Antwerp, etc.). Today, Anselmo and his brother Gilberto, who specialises in guitar repairs and received his training thanks to Music Fund, brought their precious talents together and opened their own music shop in Maputo, the Casa de Pianos Moçambique.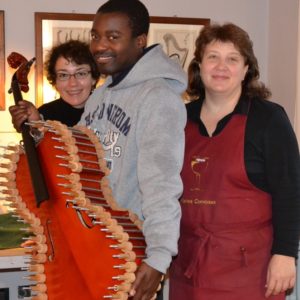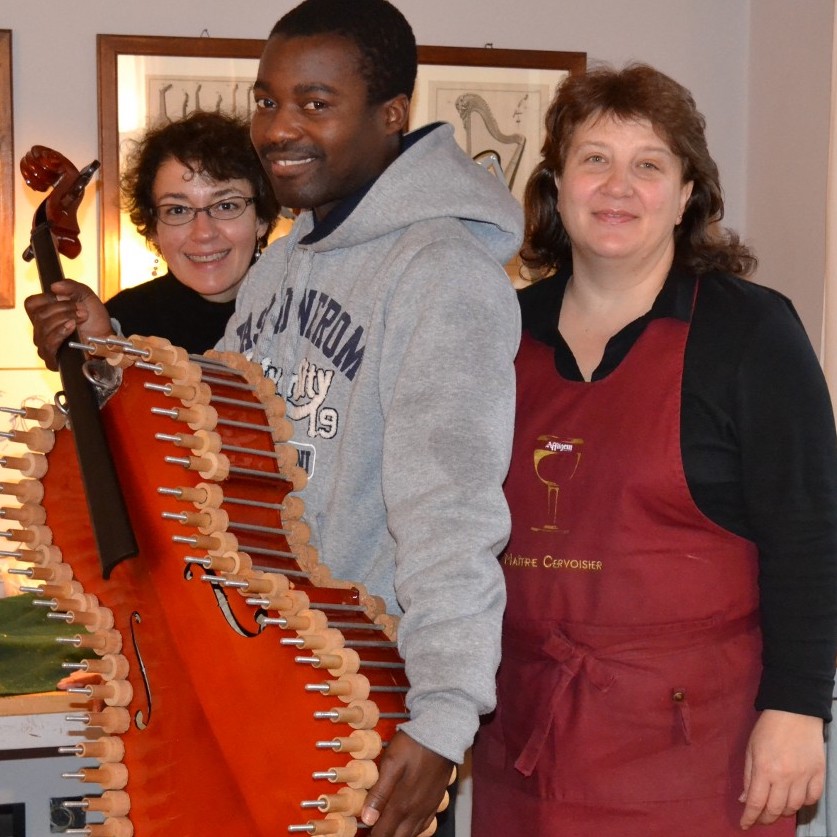 Between 2014 and 2018, Ozias Macoo had the opportunity to attend various training courses in Maputo with support from Music Fund and the Festival Milano Musica.  He also spent several months as an intern with Luisa Campagnolo in Cremona, Italy, the Mecca of European violin making. Ozias has been the driving force behind Kika Materula's Xiquitsi project, where he now coordinates the string instrument repair workshop and runs courses for students. Passionate about traditional instruments, he uses his expertise to create improved versions of the mbira (a traditional Mozambican lamellophone).
Project in the spotlight : Restoration of the Steinway piano at the Franco-Mozambican Cultural Centre
In 2017, the Music Fund team discovered a forgotten gem in the French-Mozambican Cultural Centre in Maputo: a Steinway grand piano, badly damaged by termites and scarred by the passage of time. At the beginning of 2018, Belgian piano builder Chris Maene traveled to Mozambique for ten days to assess the work needed to restore the piano's condition. During that mission, the idea arose to transport the valuable instrument to his workshop in Ruiselede (Belgium), where the necessary tools and parts are located to restore the Steinway to its value. Mozambican piano repairer and tuner Anselmo Chissaque would be involved in this process. Before returning to Maputo, the piano would make a stopover at the Concert Hall in Bruges (Belgium), where it would be played in a farewell concert with various artists, accompanied by Kika Materula (oboist of the Porto Symphony Orchestra and current Minister of Culture of Mozambique).

Objectives of the restoration:
To specialise Anselmo Chissaque's training in the repair of grand pianos
Enrich the cultural life of Mozambique's capital city by giving local musicians the chance to play a high-quality instrument
Music Fund's project in Mozambique is developed in collaboration with the contemporary music festival Milano Musica