Since 2006, Music Fund, has :
21
Trained repair technicians
3333
Instruments repaired and given
10
Workshops in partner countries
18
Collecting points in Europe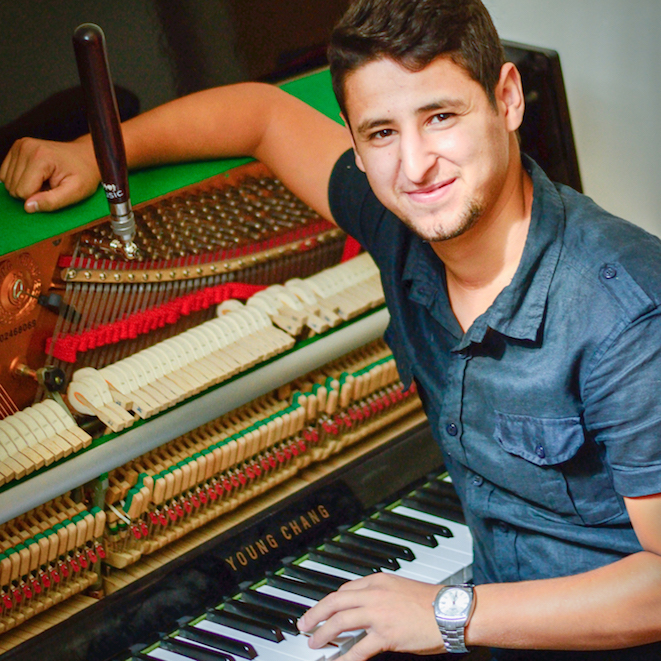 Hamza Boutaghrassa comes from a modest family living in Tetouan. He is a huge fan of Chopin and has a passion for the piano. He spends as much time as possible in the academy. In 2011, a piano tuner from the French school ITEMM (Institut Technologique Européen des métiers de la Musique, Le Mans) realized that Hamza has an excellent ear for music. Since then, Hamza has followed about 7 local training sessions (70 days in total) and in 2014, he spent two months in the Hanlet workshops in Brussels. He came back at the end of 2017 for 10 weeks. He is the only skilled piano tuner in the area of Tetouan able to tune a piano for the concerts organised in the city. Besides, he also works for individual customers and started to give piano lessons in 2018 in Chefchaouen, but he does not give up his job as a piano tuner.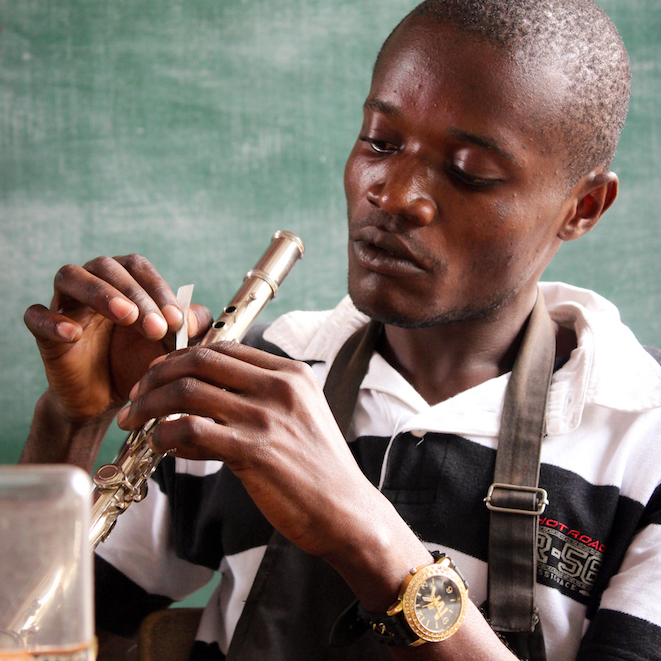 Born in Kinshasa, Lyve Mando Mengi's life has been particularly hard: after his mother passed away, his father married another woman, but the family rejected Mando. He lived in the street for some time before joining the Espace Masolo. There, Mando discovered the puppet theater and the saxophone. He has been noticed by various teachers who offered training courses at the Espace Masolo. In 2017, he came to Marche-en-Famenne for an advanced training course and took part in a tour of Germany with the Espace Masolo brass band. The cherry on the cake: Mando has been chosen to give the first training course on maintenance and repair techniques for wind instruments in the framework of the new Music Fund project in Bukavu. To organise an exchange between young talented Congolese people and to see how a young local repair technician is able to cope with an 8-day training session is a big achievement for Music Fund…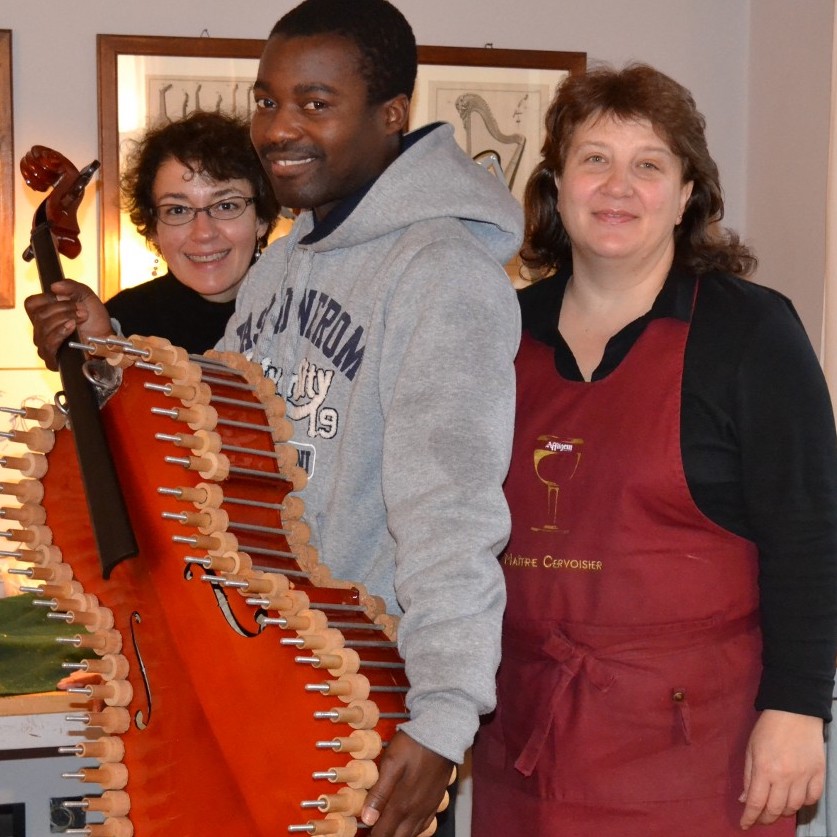 Ozias Macoo is a passionate violin maker who first got the chance to follow various training sessions organised by Music Fund in Maputo. In 2014 and in 2015, thanks to our Italian partners, he also took a training course lasting several months in Cremona, the Mecca for violin makers in Italy. He went back there in 2017 for advanced training. "I learned a lot, notably during my internship with Luisa Campagnola in Cremona, where I had the opportunity to meet many Italian violin makers…". In Italy, Ozias also took a great interest in the large choice of wood types available to make violins, and he now uses this expertise to make improved versions of his "mbiras" (traditional Mozambican lamello-phones). Today, Ozias is a teacher of instrument-making techniques at the Escola de Communicaçao e Artes in Maputo.