Espace Masolo
Espace Masolo is well-known in Kinshasa, as a childcare facility for children and young adults who have broken with their families. The organisation organises trainings in various artistic occupations (sewing, theatre, music…) with the aim to help the children – some of whom are accused of "witchcraft" – to reconnect with their families and flourish through art.
In 2009, Espace Masolo started a brass band. Music Fund provided instruments to Espace Masolo and created a workshop for repairing wind instruments on its premises in Masina. Today, this workshop (ARIMAV) is managed by one of the repairers trained by the association, Lyve Mando Mengi. Mando attended several courses in Kinshasa before completing his training in Marche-en-Famenne in 2017. In just a few years, he has become one of the pillars of the Espace Masolo, where he frequently organises introductory workshops on the basic techniques of repairing wind instruments (workshops that he also gives to musicians from the commune of Kimbanseke). In addition, Music Fund now calls on him to provide training in Kivu, in the east of the DRC, generating many exchanges between partner projects.

Our projects for 2021-2023
Further training of Lyve Mando Mengi
Strengthening the team responsible for the management of the Espace Masolo repair shop
Raising awareness among Kinshasa brass bands for the need to maintain musical instruments (with a particular focus on the commune of Kimbanseke)
Boosting the range of music courses on offer at Espace Masolo
Supporting the development of the Espace Masolo brass band
Lyve Mando Mengi
Wind instrument repairer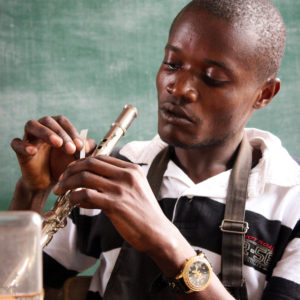 Lyve Mando Mengi, 27 years old, was born in Kinshasa. Accused of "witchcraft" after the death of his mother and his father's remarriage, he left the family home and lived on the streets for a long time, before being taken in by government services and entering the Espace Masolo. Mando began to learn puppet theatre but most of all the saxophone, his favourite instrument. With his perfectionism and great precision, he attracted the attention of various repair trainers who taught at Espace Masolo over the years. In 2017, he came to Marche-en-Famenne to perfect his skills and toured Germany with the Espace Masolo brass band. To top it all, he is now in charge of the wind instrument maintenance training in the Music Fund project in Bukavu, in partnership with Ndaro Culture. It has been a real achievement for Music Fund to create an exchange between Congolese talents and to see a local trainer pass on his knowledge and skills to young apprentices.
Beta Mbonda
Beta Mbonda is a music band from Kinshasa, composed of young people from delinquent backgrounds (former "kuluna") who decided to change their lives and devote themselves to their passion: traditional Congolese music. They play traditional percussion instruments such as madimba (xylophones), lokombes (Otetela drums from Kasai), or ditumba (Luba drums from Kasai). These instruments have become rare in Kinshasa. In 2015, ten members of Beta Mbonda were trained by traditional instrument makers to make such instruments. Today, the ensemble gives music lessons on the Bateke plateau as part of the Dwale music school project of ACADEC (Association Congolaise d'Appui au Développement Communautaire, founded in 2009 by Mrs Kaloma Bamiriyo).
Don't miss: In the documentary "Kinshasa Beta Mbonda" , Belgian film-maker Marie-Françoise Plissart followed for several months the daily lives of these young percussionists whose lives are deeply influenced by music.
The National Institute of Arts
The National Institute of Arts (INA), a large school with about 1,500 students, has played a leading role in Africa in the past, attracting students from all over the DRC and neighbouring countries (and as far afield as South Africa). However, due to the instability of the country and the lack of funding, the INA has faced many problems. Music Fund supported the school from 2007 to 2014, providing instruments which are still largely used today, but also training several wind instrument, guitar and piano repairers. One of them is the piano tuner-repairer Serge Tabu, who is now one of the trainers of the Music Fund project in Kivu.
This project is supported by the City of Brussels (BRISSI)