From the Conservatory of Music to the School of Arts and Crafts of Tetouan
Music Fund has been active in the city of Tetouan since 2012. Thanks to the support of Wallonie-Bruxelles International, the association has been able to set up a permanent workshop in the city's Music Conservatory. Several technicians were trained by Music Fund in all disciplines, including a piano tuner-repairer, Hamza Boutaghrassa, and a wind instrument repairer, Ihab El Ghaiba.
In 2020, Music Fund extended the project to the entire north of Morocco by sending 153 musical instruments, including two upright pianos, to the different conservatories managed by the Ministry of Culture, Youth and Sports of the Kingdom of Morocco (Tetouan, Oujda, Chefchaouen, Tangier, Rabat, Larache, Marrakech and Aït Melloul).
At the beginning of 2021, the repair workshop was transferred to the School of Arts and Crafts of Tetouan. The institution's mission is to preserve and transmit the Moroccan-Andalusian cultural and artistic heritage and therefore provides the ideal framework for the development of new professional training courses including the in the maintenance and repair of musical instruments.
Our action in 2021-2023
Developing a full range of services in the field of instrument repair in the northern Morocco.
Upgrading the repair workshop to make it fully operational for the organisation of new training courses (violins – guitars – wind instruments – pianos).
Deepening and completing the training of the piano tuner-repairer Hamza Boutaghrassa and wind instrument repairer Ihab El Ghaiba.
Training of a new stringed instrument repairer (rubbed or plucked)
Development of piano repair and tuning course for students at the School of Arts and Crafts of Tetouan
Raising awareness of the importance of the maintenance and tuning of musical instruments among students of the conservatories of Northern Morocco.
Hamza Boutaghrassa
Piano tuner and repairer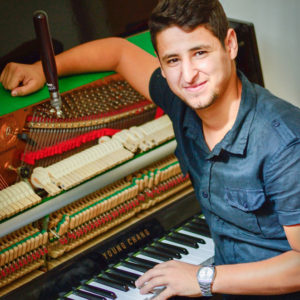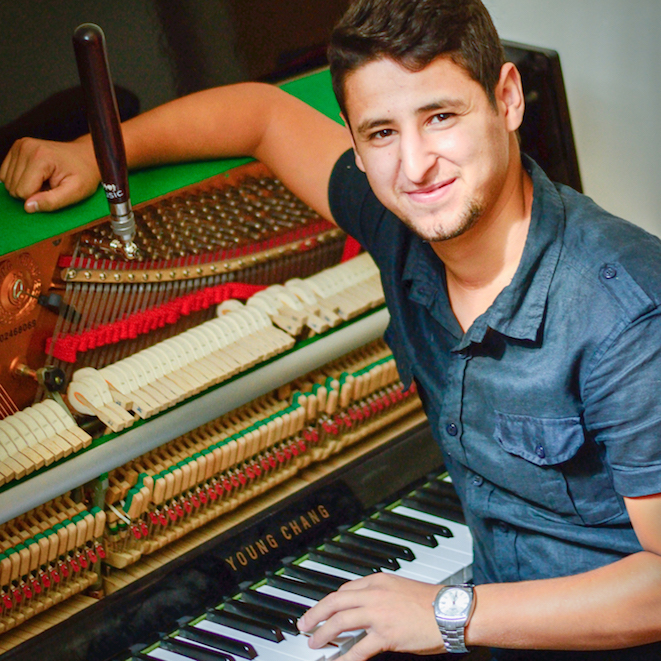 Hamza Boutaghrassa, 30 years old, comes from a modest family in Tetouan. He is an inveterate lover of Chopin and a passionate pianist. As soon as he can, he goes to the conservatory to rehearse his scales. In 2011, he is noticed for his excellent hearing by a French tuner from ITEMM (Institut technologique européen des métiers de la musique, in Le Mans) who is on a mission for Music Fund. Hamza then attends seven local training courses (70 days) and spends more than four months in Belgium between 2014 and 2018, notably at the Hanlet workshops in Brussels. In the Tetouan region, he is the only one person who can tune pianos. Since 2018, he has been giving piano lessons in Chefchaouen, while continuing his work as a tuner-repairer in the Conservatories managed by the Moroccan Ministry of Culture. He also works as a freelancer for private individuals.
The project in Morocco is developed in collaboration with the Ministry of Culture, Youth and Sports of the Kingdom of Morocco and the Wallonia-Brussels Delegation in Rabat, with the support of Walonia-Brussels International