Instrument Repair Channel
Music Fund aims at reinforcing the autonomy of its various partners and encourages the sharing of knowledge between southern countries. In June 2020, Music Fund, in association with the American non-profit organization BLUME Haiti, has launched the production and broadcasting of tutorials on instruments repair techniques. The objective is simple: developing quality pedagogical tools that are available online and can be used by anyone.
Garfield Hylaris, also known as Tchoupy (Cap Haitian), and Hérold Jean-Pierre (CPMIRS, Port-au-Prince) come from the Cemuchca music school and were trained thanks to the support of Music Fund. Twice a month, they offer videos on how to repair stringed and wind instruments. Tchoupy and Hérold define the program of these videos together with European luthiers, striving to make it as progressive and adapted to the actual situation in the field (where specialised equipment is often scarce) as possible. The program touches on many topics, ranging from how to build tools using only available elements, to basic notions on how to repair and maintain instruments, or even notions that are more specific to certain instrument types or families.
Stringed instruments
Video #1: Violin maintenance
(Language: French)
Wind instruments
Video #1: How to build a flat screwdriver
(Language: French)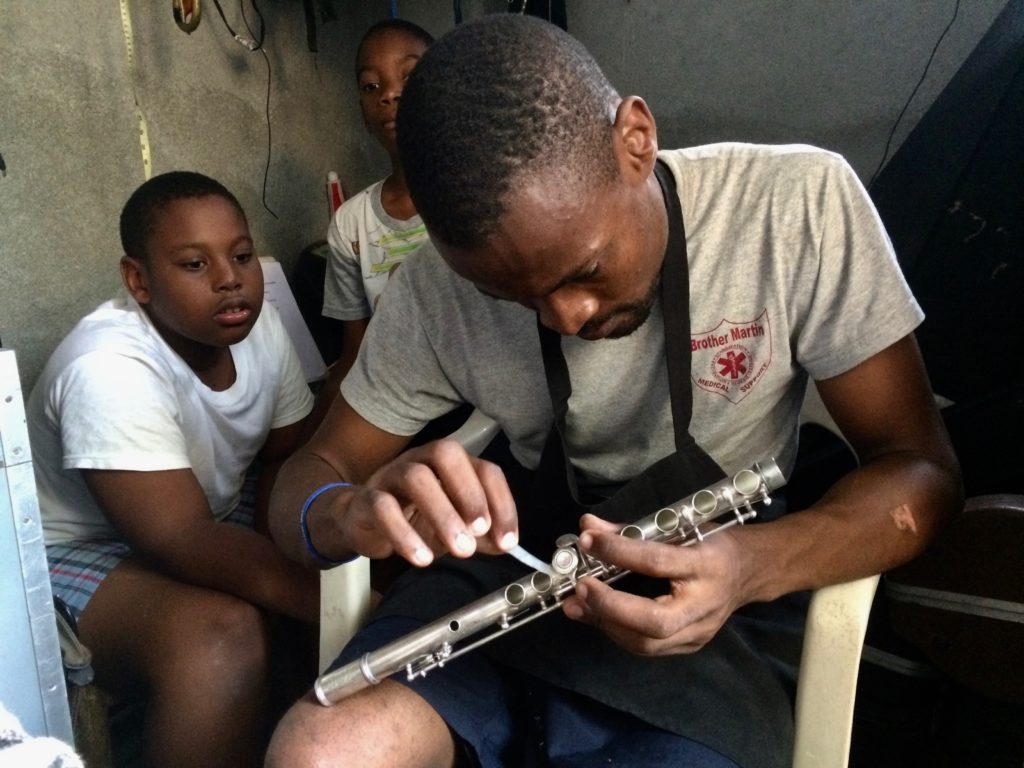 Hérold Jean-Pierre, wind instruments repairer
(CPMIRS, Port-au-Prince)
In 2016 and 2018, Hérold Jean-Pierre followed two training courses on repair techniques for wind instruments in Cap Haitian, and in 2019, he was invited to follow a two-month apprenticeship in Belgium, in the workshops of Music Fund (Marche-en-Famenne), the Dairbau brothers (Gourdinne) and Marc Paeleman (Zwalm). That same year, he founded his own workshop in Port-au-Prince, the CPMIRS (Cemuchca Port-au-Prince Music Instrument Repair Shop), in close collaboration with Music Fund, who helped him with the equipment. He is a self-taught stringed instruments repairer and teaches music at the Cemuchca's annex in Port-au-Prince.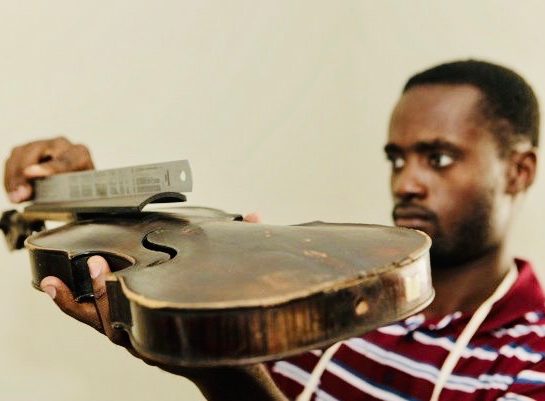 Tchoupy, violin maker (Cemuchca, Cap Haitian)
Garfield Hylaris, aka Tchoupy, has successfully followed several professional training sessions with Luisa Campagnolo in Cremona, Italy – the cradle of violin making. He now works as the official luthier of the Cemuchca, which enjoys a fully equipped violin shop. There, Tchoupy ensures the maintenance and repair of the school's instruments, but also trains apprentices and builds his own violins. Multi-instrumentalist (violin, double bass, saxophone and trumpet), he teaches music at the Cemuchca and directs the school's brass band and orchestra.
CEMUCHCA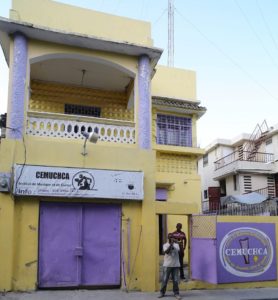 Founded in 2004 on the initiative of former members of a musical ensemble from the city of Cap Haitian, the CEMUCHCA (Circle of Christian Musicians of Cap Haitian) is one of the largest music institutes of Haiti. The school has its headquarters in Cap Haitian but has also eight annexes spread throughout the country (notably in the towns of Limbe, Milot and Port-au-Prince, in the Nippes region and on the island of La Gonâve). Some 350 students, aged five years and more, from all social backgrounds, follow the school's music courses, 250 of whom take part in the annual summer camp. The Cemuchca offers a diversified musical education (stringed instruments, piano, brass band, music theory, etc.) and includes an orchestra of 30 musicians.
BLUME Haiti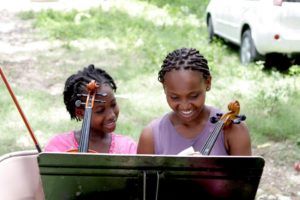 The American non-profit association BLUME Haiti, founded in 2012 by cellist Janet Anthony, supports over 40 music schools throughout Haiti (including the Cemuchca). Its actions are multi-layered: it seeks to develop a knowledgeable, networked and caring professional workforce for the music education sector in Haiti, but also to expand access to high quality, learner-centered educational opportunities in the country and abroad. Blume Haiti works towards strengthening its partner programs and building their capacity, resources and infrastructure while inspiring and producing national and local initiatives with meaningful artistic, cultural and educational impact. BLUME is at the origin of the summer camps that each year bring together nearly 350 musicians from all over the country, as well as of the Haitian Orchestra Institute (HOI), which enables over 100 of Haiti's most accomplished musicians and teachers to receive intensive orchestral and instrumental training from Musicians of the Utah Symphony (MOTUS) and its Music Director Thierry Fischer.